Stock Availability: 3-6 weeks
Soliton Zao-SH Ultra Low Latency Smart-telecaster
0.04 seconds latency Changing the game in live video transmission
Key Features
0.04 seconds latency
5G compatible
H.265 HEVC encoder
Multilink and Lower Latency
The "Smart-telecaster series" is a solution that transmits high-quality video in real time using a public mobile line. Widely adopted from broadcasting media to public institutions such as police and fire departments, it is used for news reports and sporting events from disaster sites both in Japan and overseas.
Zao-SH, the latest model of the "Smart-telecaster series", is capable of ultra-short delay relay by scrapping and building the software of its sister product, Zao-S . It has a function that allows remote control of not only live broadcasts but also automobiles and construction machinery. By using 5G, even higher image quality, short delay relay, and stress-free remote control become possible.
Ultra Low Latency Smart-telecaster Zao-SH - 5g HEVC live video streaming
0.04 seconds latency Changing the game in live video transmission. The Zao-SH is a small mobile encoder that can live stream video from a remote location back to any destination. But with an incredible glass-to-glass latency of only 0,04s (40ms) over LAN, or 0,065s (65ms) over 4G. Buy Zao-SH from UBMS Dubai.
The Zao-SH is an H.265 HEVC encoder that can be used in a variety of video contribution scenarios. From broadcast applications, such as news gathering, to public safety, law enforcement and military applications, the Zao-SH can be utilized to send an encrypted live stream from a broadcast or surveillance camera, drone, vehicle, body cam or helicopter. Buy 5G live video Streaming device from UBMS.
Smart-telecaster Zao-SH is a 5G compatible ultra-low latency live video transmitter
It is equipped with next-generation transmission technology that reduces the glass to glass latency to 0.04 seconds (40ms) or less. The latency in live video transmission has been an important concern but the Zao-SH is able to transmit live video signal to/from remote areas in almost real time.
Zao-SH is perfect for following Applications
5G Live streaming
5G video Streaming
5g HEVC live video streaming
5G low latency streaming
Drone 5G streaming
The Zao-SH can send a fully encrypted live stream, but simultaneously a return data feed can be sent from the destination back to the Zao-SH, for example to control a PTZ camera or to remotely control a drone gimbal.
The Zao-SH can live stream reliably over multiple bonded 4G SIM cards from different network providers, and /or can be utilized with a LAN connector.
At the receiving end, a Linux based software decoder will provide a video output of the live video. End to end latency starts at a remarkable 0,04s.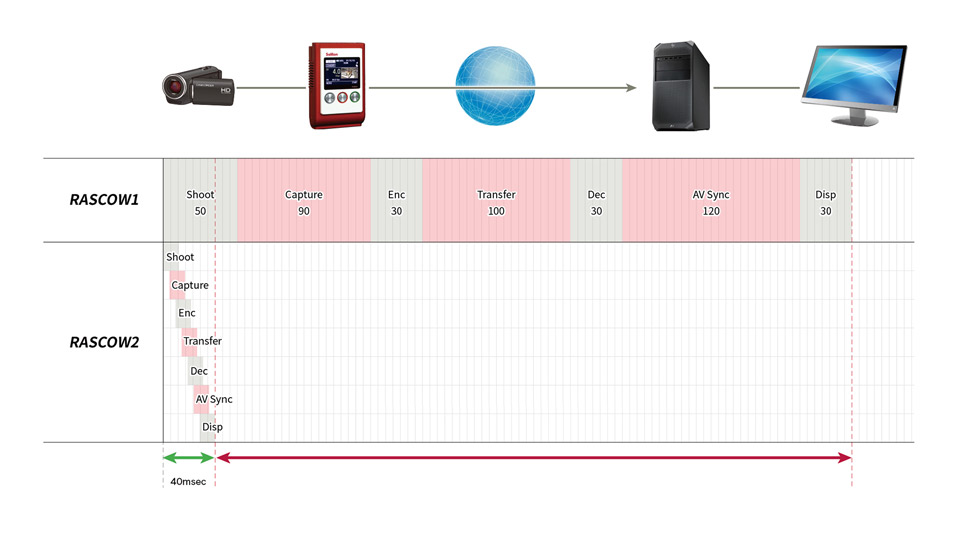 Explanation of each part:
Shoot
The period from when the light enters the lens of the camera until video data is on the output of the SDI/HDMI terminal on the camera
Capture
The period from capturing video data from SDI/HDMI and performing color space conversion until it is input to the encoder
Encode
The encoding (compression) time
Transfer
The period in which compressed data is extracted from the encoder and divided into communication packets for multilink transmission/reception. Includes time for error correction and packet sorting between each connection
Decode
The decoding (uncompression) time
AV Sync
The time until adjusting audio and video timing and outputting to SDI/HDMI
Display
The period from SDI/HDMI output of the receiver to display the video on monitor (monitor-dependent part)
Function / Feature
1. Very short delay / RASCOW2
Ultra Low Latency
In order to solve the delay problem that occurs during simple transmission, Soliton developed RASCOW2, which is the second version of RASCOW (Real-time Auto Speed ​​Control based On Waterway-model) Solitons's original codec management/communication protocol. RASCOW2 makes the encoding procedure faster while controlling all transmission settings faster and more efficiently. This feature succeeded in significantly reducing the delay associated with compression.
2. Remote Control Function
Remote driving or remote operation
With almost zero latency, it is now possible to remotely control a car or construction equipment connected to Zao-SH in a remote location. Until now, the delay on live control transmission systems was too large and it was difficult to perform remote operations safely with a live video stream. With the ultra-low latency Zao-SH, it is possible to control machinery effectively with a live video stream that is in almost real time from a remote location.
3. World's lightest
Mobile encoder
It is a palm-sized ultra-compact unit weighing 350g. It operates for approximately 60 minutes with the built-in battery and an additional 4 hours continuous operation with an external battery.
4. Stable and high speed
Multilink Bonding
Mobile networks of different cellular carriers can be bonded into one network to significantly increase bandwidth and stabilize the communication speed.
5. High compression
H.265/HEVC
Equipped with a highly efficient HEVC/H.265 hardware encoder, when compared to a traditional H.264 codec, it can transmit video with almost twice more efficiency.
Serial Control
Support Serial Tunneling
Same implementation as Zao-S and HDView
Remote control use case
PTZ Camera
Drone Gimbal
Remote Driving (Actuator for connected car)
In Septembe 2020 Soliton update release of Smart-telecaster Zao-SH. This update includes bug fixes and specification changes. See below for details.
Smart-telecaster Zao-SH 3.0.7.0 / 3.0.7.0-5G
Added support for interlaced signal input. The signals that can be input are as follows. 1080i 59.94 / 60/50
Interlaced (i) / Progressive (p) is displayed in the input signal format display.
Send-back audio is now available.
As a measure to reduce the load, the sound quality has been adjusted. The sound quality is lower than the previous version Su.
The automatic stop function of the communication modem has been implemented. If there is a communication path with poor line quality, turn off the power to the communication modem for 1 second and then connect. Resets the communication modem.
UBMS is the best choice to purchase all Soliton products . Get in touch with UBMS for to get more updates about soliton products & offers
Transmitter specs
Hardware for transmission
size
Width 77 mm x height 123 mm x depth 35 mm (excluding protrusions)
Power supply
Dedicated connector x 1 unit, built-in battery (approx. 20Wh, approx. 60 minutes operation, approx. 150 minutes charge) x 1
power consumption
About 20W
Video input terminal
Equipped with BNC (75Ω din1.0 / 2.3) x 1 and HDMI x 1
Communication terminal
Equipped with micro USB2.0 x 3 and USB2.0 x 1
Operating environment
Operating: 0 to + 40 ° C / 20 to 80% RH (no condensation)
Storage: -20 to + 60 ° C / 10 to 80% RH (no condensation)
communication
Applicable line
5G, LTE, WiFi, Ethernet
Error correction
ARQ, packet sort
protocol
UDP / IP, TCP / IP (RASCOW2)
Serial communication
Expansion with the specified USB serial conversion cable
Video
Coding scheme
H.265 Main Profile
Supported input formats
・ HDMI
1980 x 1080: 25p, 29.97p, 30p, 50p, 50i, 59.94p, 59.94i, 60p, 60i
1280 x 720: 50p, 59.94p, 60p
・ SDI
1980 x 1080: 25p, 29.97p, 30p, 50i, 59.94i, 60i
1280 x 720: 50p, 59.94p, 60p

bit rate
128kbps to 15Mbps
frame rate
Maximum
29.97fps ( when the input video is 1080p 59.94 / 29.97) Maximum 59.94fps (when the input video is 720p 59.94)
Voice (two-way)
output
3.5φ stereo mini plug
Receiver specs
Recommended operating environment
hardware
HP Z4G4 Workstation
CPU
IntelR XeonR W-2123 Processor (3.6GHZ, 4Core, 8.25M cache)
RAM
32GB DDR4 SDRAM (2666MHz ECC Registerd, 8GB x4)
HDD
1TB HDD (SATA, 7200rpm)
GPU
NVIDIAR QuadroRTX4000 8GB
Output interface
DisplayPort / SDI *
* SDI output is optional
Network interface
Supports LAN 1000BASE-T / 100BASE-TX / 10BASE-T
Number of simultaneous connections
Transmission mode
Delay priority mode (Low-latency) / Bandwidth mode (Bandwidth)
Voice (two-way)
input
Built-in sound card
output
Embedded Audio (DisplayPort or embedded sound card)
* SDI output is optional
Additional delay amount setting
External device delay amount setting
Serial communication
Expansion with the specified USB serial conversion cable