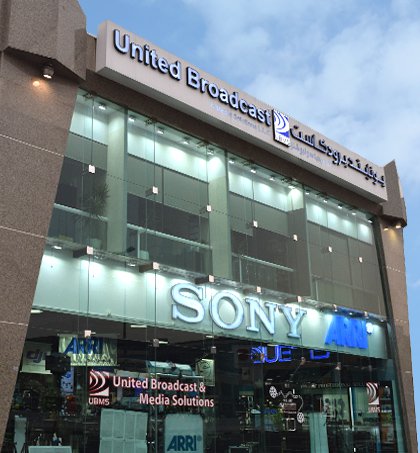 INTRODUCTION
Founded and based in Dubai, United Broadcast & Media Solutions has more than two decades of experience servicing the Broadcast and Media industries, offering the largest volume of products and services in the Middle East & Africa.
UBMS's product portfolio features more than 70 international brands, all offering quality solutions. Leading brands included Sony, Arri, Dji, Zeiss, Sachtler, Sennheiser, Edit Share, lkegami, LiveU, Autocue, Blackmagic Design, Libec, Fujinon, Canon, and many others.
UBMS also offers a complete Systems Integration service with turnkey solutions for complete system design, integration, consultation, and professional services. Combining this expertise with our carefully selected brands enables UBMS to offer its clients the best quality options, whether it is for an "off the shelf" solution or a fully designed "bespoke" system solution. All of the solutions are designed to empower our clients to enhance their performance and productivity and to grow their businesses. 
We understand Broadcast, we understand Post-Production, we understand Systems Integration and we understand the need to provide the right solutions for our customers.
This commitment is the driving force behind our success. At UBMS, we always listen to our customers to fully understand their requirements; our passion is to deliver a complete end-to-end solution on time and on budget - customer satisfaction is paramount.
Our Vision
Vision is the key to our success, since the initial idea to create UBMS 20 years ago the Company has enjoyed rapid expansion and growth, constantly responding to changes and adjusting to market trends. TheUBMS vision and strategic planning have allowed us to reach out to new clients whilst still being focused on our existing clients, to serve them with an uncompromising commitment to excellence. UBMS's main markets are now concentrated in three regions the Middle East, Central Asia, and Africa.
Our Mission Statement
Together with our customers and partners, we will achieve the very best solutions, offering the best choice, the best quality, the best service, and the best value for money. When our customers and partners are successful UBMS is successful. UBMS strives to please its clients, its partners, and its employees.
Showroom / Service Center / Distribution Center
Our Dubai Showroom is within our HQ building, strategically located on Airport Road, making it easily accessible to our customers, whether local or international and we provide free customer parking, Wi-Fi, and refreshments – all in keeping with the UBMS philosophy of keeping the customer satisfied. The Showroom provides a full hands-on experience and includes areas dedicated to each category of Product as well as the Manufacturer. The showroom is open Sunday to Thursday inclusive with an out-of-office service.
UBMS's dedicated service center team provides service and support for all of the systems and products in our portfolio. Our Service Support team has technical expertise across many of the product lines and can deal with clients' questions, concerns, and equipment needs. We also offer on-site services including training and equipment diagnostics.
Awards & Recognitions
The very first Distributor in the Middle East and Africa to be a corporate member of the highly respectable International Association of Broadcasting Manufacturers (IABM)
"Best Marketing Performance 2016" by ARRI
"Excellent Achievement Award" by Sony
"Creative Marketing Award" by Sony
"Best Regional Distributor" Award by Digital Studio Magazine
"Best Sachtler Lighting Agent" Award by The Vitec Group
"Excellence Performance" Award by Sony Middle East
"Best Sachtler Camera Support Agent" Award by The Vitec Group
"Best After Sales Support" Award by Digital Studio Magazine
"Best Sachtler Agent" Award by The Vitec Group
unitedbroadcast.com is managed by United Broadcast & Media Solutions LLC.