Stock Availability: 3-6 weeks
Fomex RollLite RL21 – 75W KIT
Fomex RollLite is an LED lighting system that gives you a whole new level of experience that you have never felt before. FOMEX RollLite precisely emphasizes the subject's true color with a very high light intensity, it is lightweight, easy to move and install, also perfectly meets the rigid demanding requirements of professional lighting. By RollLite RL21 – 75W KIT from UBMS.
Separately and Together, Easy and Various Installation
Fomex RolLite is an innovative LED Lighting System that can be transformed freely depending on the location and circumstances. Mats can be combined to expand to the desired size as needed. Fomex RollLite uses an integral snap-grommet to allow quick and easy installation on the Butterfly, X-mounts for stand, ceilings or more. 
Perfect and Delicate Color
Fomex RollLite is precise LED lighting to express color that is perfect under any circumstances. Fomex RollLite maximizes color flexibility allowing you to choose color temperatures from 2700K to 6500K and ensures TLCI 98 and CRI 96 to achieve the most accurate color with you intent.
Protected
The RollLite is made of unique antibacterial textile, with IP64 protection against dust and water splashes from any direction.
Photobiological Safety
The wavelength spectrum of Rollite, which has been certified for photobiological safety, is a safe light that does not irritate the eyes and skin.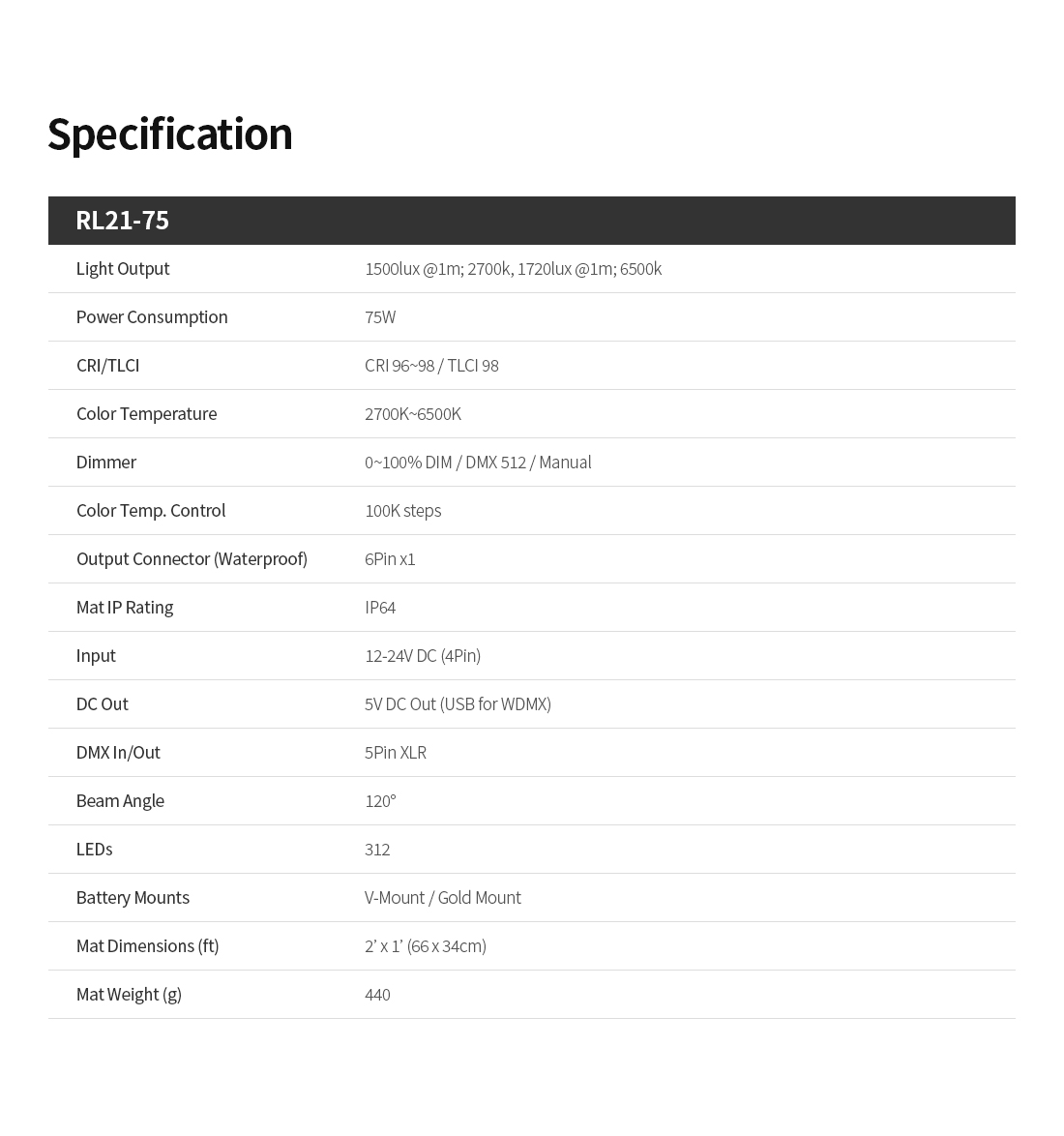 RollLite LED Mat 2'x1' (700x350mm)
Controller for RL21/31
Power Supply for RL21/31/EX1800 Output cable(6-pin) 2m for Controller Extension cable(6-pin) 5m
X-mount Ass'y for RL21
Super Clamp Adaptor Shoe w/Spigot Kit Bag for RL21/31