Stock Availability: 3-4 weeks
CANON EOS C70
Professional Cinema – Powerfully compact
Key Features
Super35 Dual Gain Output (DGO) Sensor
4K 120p, 2K Crop 180p HDR Capture
Canon Log 2, 3, PQ & HLG Recording
Canon Log 2, 3, PQ & HLG Recording
The EOS C70 is a new generation RF Mount Cinema EOS System camera featuring Canon's 4K Super 35mm DGO sensor. With 4K 120P Slow Motion, High Dynamic Range and Dual Pixel CMOS AF in a compact body, it takes the RF System into a brand-new era. EOS C70 delivers the most advanced Image Stabilisation of any Cinema EOS camera via RF lens support. Featuring EOS ITR AF X technology, the Dual Pixel AF keeps the focus on the subject you are following even when shooting at high frame rates at 4K 120P.
Discover new dimensions in filmmaking with the Canon RF-mount Cinema EOS System.
The EOS C70 ( Canon EOS C 70 ) brings our iconic Cinema EOS and EOS R systems together to create a compact, portable and professional cinema camera.
Key Features
Capture professional 4K Cinema EOS video quality handheld, on a drone or gimbal, with the smallest body in the Canon Cinema EOS range – and the first to feature an RF Mount. ⁠
Shoot in a variety of lighting conditions with the Dual Gain Output (DGO) Sensor to achieve professional Canon colour with rich graduation – even in environments with various levels of brightness.
⁠
Dual Pixel CMOS AF together with a 120p high frame rate keeps the camera focused in various environments to push creative limits.⁠
Get the most advanced Image Stabilization of any Cinema EOS camera - the EOS C70 enables Combination IS which brings together the Optical IS in RF lenses and the Electronic IS in the camera body for outstanding stabilization performance⁠
Record simultaneously in different formats and resolutions or back up your footage with Dual SD card slots.
RF Mount
Featuring the RF mount system, the EOS C70 bridges DILC & Cinema Cameras.
Shoot and store
The EOS C70 has two SD Card Slots for simultaneous recording so you can backup your footage in different formats or resolutions.
Versatile
The EF-EOS R 0.71x Mount Adapter is an EF-to-RF mount adapter that can be used in combination with EF lenses. It employs optical conversion to capture the same full-frame angle of view with the Super 35mm sensor. Depth of field stays the same, and the f-number is one stop brighter. UBMS is the best place to shop canon camera in Dubai.
Dual Gain Output
The EOS C70 uses Canon's new 4K Super 35mm DGO sensor with HDR capabilities.
4K/120fps
High frame rate 4K shooting at 120fps with audio recording & DPAF.
Dual SD Card Slots
Dual UHS-II SD card slots enable simultaneous / relay recording of 4K XF-AVC / MP4 files (4:2:2 10-bit).
Dual Pixel CMOS AF
Improved Dual Pixel Auto Focus with intelligent tracking and a new touch user interface.
MOUNT ADAPTER EF-EOS R 0.71x
Compatible with the new MOUNT ADAPTER EF-EOS R 0.71x giving users access to the extensive range of Canon EF mount lenses.
The RF Mount. The future of imaging
The large diameter RF mount with its short back focus and 12-pin communication delivers a balance of optical and electronic innovation plus scintillating AF speed from Canon's range of RF lenses.
Large Diameter Mount
This new RF mount is featured in the EOS C70, and allows filmmakers to also benefit from the amazing optics and high-performance the RF system brings.
Short Back Focus System
Having a shorter flange back distance of approx. 20mm (which is less than half of the distance on DSLR cameras), allows lenses to fit closer to the focal plane of the camera's sensor. This short back focus not only allows the camera body design to be more compact, but also gives more freedom for the optical system to be utilised for corner-to-corner sharpness.
12-Pin Data Communication System
The RF mount communication system utilises multiple channels dedicated to specific functions; its revolutionary data system enhances lens and camera cooperation and functionality.
Smooth aperture control, broader area AF and improved focus precision, plus highly sophisticated optical correction and improved image stabilisation are the result.
Versatile. Flexible. Reliable. Your new workhorse
The EOS C70 uses design cues from other RF mount cameras from Canon, with additional controls, environmental protection and a convenient size to fit your production rig.
Compact, Lightweight and Reliable
The EOS C70 features a new design, including a multi-function grip with 3 customisable dials and multi-directional joystick. The camera is built to be a tough and lightweight workhorse, thanks to the carbon fibre polycarbonate body. The compact design also enables it to be comfortably rigged to drones, gimbals, hand-held or shoulder rigs, as well as FPV helmets and vehicles.
Built-in ND filters
The EOS C70 features a newly developed ultra-thin ND filter unit which is optimised for the shorter flange back of the RF mount.
This electronically controlled ND filter system, supports 2/4/6 and an extended 8/10 stops, making it possible to create an image with shallow depth of field, in bright shooting conditions.
Rugged Cold Shoe Mount
The EOS C70 incorporates a rugged cold shoe to mount the handle unit, or as an accessory shoe to attach a variety of accessories such as an external microphone.
Independent chamber ventilation system
The EOS C70 adopts an equivalent independent airflow system found in our higher-end Cinema EOS cameras. This independent ventilation structure is designed to separate the airflow from directly hitting the electronic components. This design also prevents foreign bodies such as water and sand from entering the electrical systems, making the EOS C70 a versatile tool for shooting on location. We can ship EOS C70 to all GCC countries (UAE, Bahrain, Kuwait, Oman, Qatar, Saudi Arabia ) & African Countries .
4K Super 35mm DGO sensor for truly impressive image quality
Equipped with a newly developed 4K Super 35mm sensor and DIGIC DV7 image processor, the EOS C70 delivers a high-resolution image with 16+ stops of Dynamic Range.
Multiple recording formats
Dual UHS-II SD card slots enable simultaneous or relay recording, in different formats. XF-AVC supports ALL-I and Long-GOP, while MP4 recording offers further flexibility.
Lens Versatility
RF lenses offer exceptional quality and speed, with performance optimised for the EOS C70 and EOS R-series cameras. Super-fast focusing and outstanding optical quality combine with unique features such as a Lens Control Ring to provide additional control over settings. EOS R System adapters offer additional creative control, enabling filmmakers to use their existing EF and EF-S lenses. The MOUNT ADAPTER EF-EOS R 0.71x is an EF to RF mount adapter for using the broad range of Full Frame Canon EF lenses, whilst maintaining the same Full Frame angle of view when used with Super 35mm format. Buy CANON EOS C70 from UBMS Dubai . EOS C70 Will be available in UBMS Canon Dubai showroom soon.
Pioneering autofocus technology
The EOS C70 features the renowned Dual Pixel CMOS AF (DPAF). Filmmakers can now benefit from accurate and reliable autofocus with subject tracking and face detection.
Professional and practical support functions
Keep your workflow smooth when shooting with the EOS C70 thanks to useful features such as Direct Touch Control, Auto ISO, Vertical shooting, as well as electronic Image Stabilizer.
Professional I/O Interface
Stay in control with customisable buttons, pro terminals, plus sophisticated audio controls.
Mount Adapter EF-EOS R 0.71x
An EF to RF adapter designed to enable users to use the broad range of Canon EF lenses on the EOS C70 camera, whilst maintaining the same Full Frame angle of view. Ideal for film and documentary makers, it complements the EOS C70 perfectly for users of EF lenses.
EOS C70
Sensor
Super 35mm DGO CMOS
Sensor size (Effective MP)
Approx. 8.85 MP (4K / 2K)
Approx. 8.29 MP (4K UHD / FHD)
Recording resolution
4K / 4K UHD / 2K / FHD
Recording format/data rate (MAX)
XF-AVC / MXF: 410Mbps
MP4: 150Mbps
MP4 (HEVC): 225Mbps

Dynamic range
16+ Stops (CANON LOG2)
File type
XF-AVC (MXF)
ALL-I or Long GOP
MP4

Sampling/Bit depth
XF-AVC ALL-I or Long GOP. 4:2:2 10-bit
MP4 HEVC (H.265), 4:2:2 10-bit,
MP4 H.264 4:20, 8-bit
Frame rate (PAL)
50p / 25p / 50i
Max frame rate (PAL)
MAX 120 FPS (4K RAW / 4K)
MAX 180 FPS (Super 16mm crop 2K / FHD). Audio recording at normal
Recording media
SD CARD X2
Audio
XF-AVC: Linear PCM (24-bit / 48 kHz), 4 channels
MP4: MPEG-2 AAC LC (16-bit, 48 kHz, 2-channel) / Linear PCM (16-bit, 48kHz, 4 channels)
Dual Pixel CMOS AF
Yes; Within 80% horizontal and vertical range of sensor area
Focus assist/points**
Yes, two points
Built-in ND filters
Yes, 2 / 4 / 6 / 8 / 10 Stops
Anamorphic support
Yes x2.0 / x1.3
Dimensions (Body only) - (HxWxL)
160 x 130 x 116 mm
Weight (Body only)
Approx. 1170g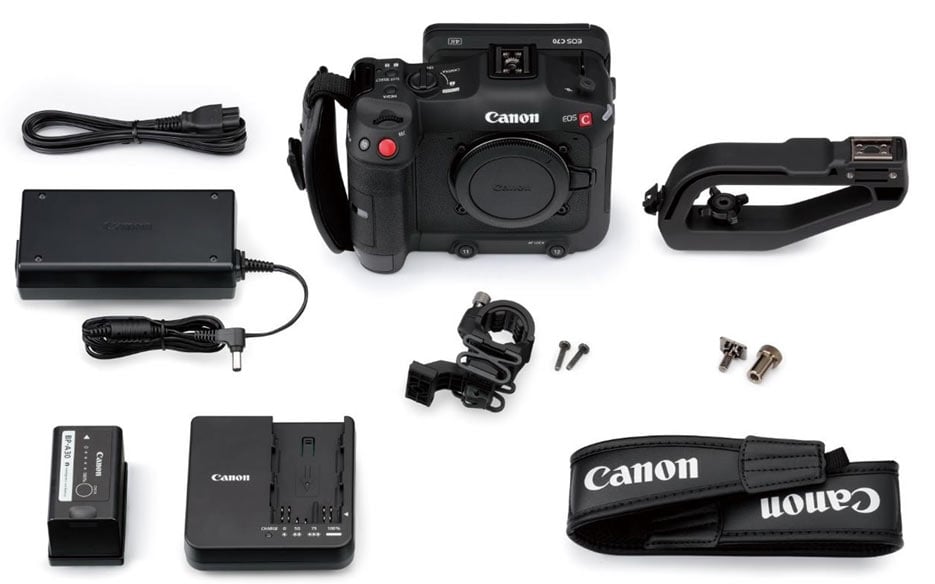 Canon EOS C70 Cinema Camera (RF Lens Mount)
Handle Unit
SS-1200 Shoulder Strap
CG-A20 Battery Charger
Canon CA-CP200L Compact AC Power Adapter
AC Power Cable
Canon BP-A30 Battery Pack For EOS C300 Mark II, C200, and C200B
Microphone Holder Unit
Show Adapter Base/Knob/Screw (M4)
Measuring Hook
Body Cap
Limited 1-Year Warranty